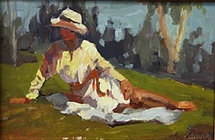 Laguna Beach Jewelry Buyer loves the fine arts. One of our favorite galleries in Laguna Beach is Edenhurst Gallery. Bringing elegance and quality to the most prestigious fine art quarter in all of Southern California, Edenhurst's inventory of 19th and early 20th century California, American, and European paintings is both comprehensive and well chosen.
The Gallery routinely displays the best that is available in fine paintings by the well-recognized California Impressionist painters Maurice Braun, Maynard Dixon, E. Charlton Fortune, John Frost, John Gamble, Armin Hansen, Bruce Nelson, Edgar Payne, Joseph Raphael, Granville Redmond, Guy Rose, Birger Sandzen, Marion Wachtel, and William Wendt as well as many others. Additionally, their expertise in the field is avidly sought by collectors, scholars, and museum curators alike.
For more information, please visit them at: http://www.edenhurstgallery.com
If you would like your Laguna Beach establishment featured in this local area of the Laguna Beach Jewelry Buyer website, please send us an email using the contact form below.